Pharmaceuticals and Biotechnology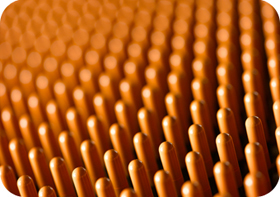 Slingshot has over two decades of experience addressing the supply chain planning and manufacturing management needs of organizations in Pharmaceuticals, Biotechnology and other industries.
Inventory Control and Process Automation
Yours is a heavily regulated industry, and you have more than your fair share of compliance challenges. Among others, the US Food and Drug Administration (FDA) will always be monitoring your systems and manufactured products.
You work with small quantities of valuable compounds and many of the steps in your process require certification and/or validation that they've been conducted in accordance with predicate rules and regulations. You're under increasing pressure to increase revenue and control costs. Your paper based systems won't scale into the future and compliance audits continue to strain your organization.
What's the solution?
IIt's a combination of well designed procedural controls and an intuitive, flexible requisition and inventory control system that is easily aligned to those procedures.
Inventory Tracking and Good Manufacturing Practice
All the functionality you will need to support the principles of the Good Manufacturing Practice regulations is available within Slingshot's inventory management applications. Tracking manufactured lots and their component parts is automated and simple to report.
Title 21 CFR Part 11 Compliance
You can comply with Title 21 CFR Part 11, but you won't ever get a certificate saying this is the case. Your own procedures need to be designed to ensure you meet or exceed all requirements of the regulation. Having a business system that supports every step of the process will make this easier than you think.
Electronic Records and Electronic Signatures
21 CFR Part 11 is all about electronic records and electronic signatures. Once procedural approvals have been moved online by way of Electronic signatures, the possibilities are almost infinite – mobile approvals, real time reporting, instant enquiry on availability to order, instant alerts to exception conditions and so on. Electronic signatures make your business more efficient and profitable.
Medical Device Manufacturing and Combination Products
Medical devices and medicines themselves are now being combined, meaning that medical device manufacturers are now falling under more comprehensive US Food and Drug Administration regulations (such as 21 CFR Part 11). As this trend continues, more medical device manufacturers will require the functionality offered within Slingshot Software's inventory control modules to validate their processes and control inventory more closely.
Slingshot's requisition and inventory management tools have helped other companies to take their businesses to the next level of efficiency, growth and profitability.
In addition to Slingshot's core supply chain planning and manufacturing functionality, our enterprise business suite addresses many other issues that are important to the Pharmaceutical and Biotechnology industries including:
Support for Good Manufacturing Practices (GMP) Good Laboratory Practices (GLP)
FDA Validation
Internet Data Interchange (Quotations, Packing Lists, Invoices)
Lot Tracking, Lot Control and Lot Traceability
Lot Genealogy (materials and resources)
Lot Shipment Tracking (market withdrawal and recall)
Lot Hold and Blacklisting
Serial # Tracking (implanted devices)
Percent Purity and Percent Potency Tracking
Potency price adjustments
Product Expiration Date Tracking
Customer Distribution Days
FEFO (first expiration first out) Stock Rotation
Quality Assurance and Inbound Inspection (sampling, lab system interface)
Customer Specific Product Packaging (generics)
Customer Consignment Inventories
Multi-National Capabilities (multi-currency, multi-lingual, date formats)
Contract Pricing, Support For Buying Groups
Inventory Stratification and Location Stratification
Certificate of Origin Generation
Certificate of Analysis Generation
Material Safety Data Sheet Support
Consolidated Billing