Discrete Manufacturing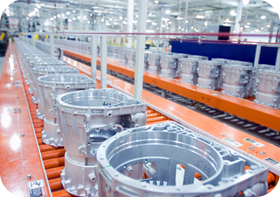 Slingshot has over two decades of experience addressing the supply chain planning and manufacturing management needs of organizations in Discrete Manufacturing and other industries.
Slingshot helps discrete manufacturers reduce excess inventory and labor costs and ensure reliable fulfillment by managing lead timesand planning ahead for sudden shifts in demand. Slingshot gives you total control over the sup ply chain, helping you implement lean manufacturing practices and optimize efficiencies.
With Slingshot, you can quickly mold the system to your unique requirements, allowing you to maintain and grow your competitive advantages and empowering you to react to changing market conditions faster than your competition. Our enterprise business suite has been designed for rapid implementation, allowing you to improve your supply chain efficiencies and enhance your customer relationships.
In addition to Slingshot's core supply chain planning and manufacturing functionality, our enterprise business suite addresses many other issues that are important to the Discrete Manufacturing industry including:
Pick and Inventory Pooling
Pick Lane Balancing
Web Collaboration (Quotations, Packing Lists, Invoices)
Lot Genealogy (materials and resources)
Lot Shipment Tracking
UPC Codes and SKUs
Netback costing (netback to plant)
Matrix Pricing
Lockbox Cash Management
Escheat Processing
Unauthorized Receipt Tracking
Short Pay and Short Pick
Random Binning
Location Slotting
Multi-modal (Rail, Truck, Barge, Tanker)
Shipment Tracing (revised ETA)
Vehicle Tracking
Material Requisitions
Flexible Bill of Materials
Job Estimation and Costing
Capacity Management and Routing
Quality Assurance and Outbound Inspection (sampling)
Customer Specific Product Assembly
Multi-National Capabilities (multi-currency, multi-lingual, date formats)
Inventory Stratification and Location Stratification