Chemicals and Energy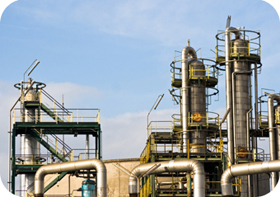 Slingshot has over two decades of experience addressing the integrated supply chain technology needs of organizations in Chemicals, Energy and other industries.
Chemicals manufacturers and energy providers are facing increasingly complex operations, frequent regulatory changes, and unpredictable supply chains. Slingshot gives you the control to mold the system to your unique supply chain requirements. Maintain and grow your competitive advantages by empowering you to react to changing market conditions faster than your competition.
Our enterprise business suite has been designed for rapid implementation, allowing you to improve your supply chain efficiencies quickly - without disruption.
In addition to Slingshot's core supply chain technology functionality, our enterprise business suite addresses many other issues that are important to Chemicals, Food and Energy companies including:
Lot Control
Lot Genealogy
Lot Traceability
Use By Date
Distribution Days
Lot Costing
Web Collaboration (Order Acknowledgement, Advanced Shipping Notice, Invoice, Forecast etc.)
Support For Swaps and Exchange Contracts
Consignment Inventories
Matrix Pricing
Lockbox Cash Management
Escheat Processing
Unauthorized Receipt Tracking
Short Pay and Short Pick
Random Binning
Location Slotting
Netback Costing (netback to plant)
Multi-modal (Rail, Truck, Barge, Tanker)
Shipment Tracing (revised ETA)
Vehicle Tracking
Demurrage and Detention Charges
Shipment Diversions
Import / Export Costing (landed cost analysis)
Import / Export Shipment Tracing
Multiple Sell, Purchase, Plan and Production Units
Inventory Stratification and Location Stratification
Certificate of Origin Generation
Certificate of Analysis Generation
Material Safety Data Sheet Support
Contract Pricing, Consolidated Billing