White Papers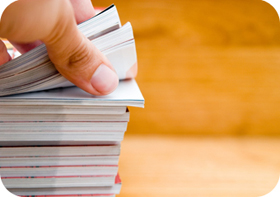 Overview
At Slingshot Software, we have had over thirty years experience partnering with such companies as Apple Computer, Exxon Mobil, CNA Surety and General Electric to help them realize significant business objectives through the successful launch of new ERP and accounting solutions carefully designed to meet their exacting needs.
We encourage you to read our white paper, for valuable information about how you can improve your software implementation process.
---
Featured White Paper
Slingshot's 5 Simple Secrets for New Software Success
Break through current business barriers with the successful implementation of Accounting or ERP software that truly meets your unique business needs.
Successfully implementing the right software can give your company the ability to
Streamline internal business processes
Elevate productivity to its highest levels
Wow customers with personal service
Outshine the competition
Send profits skyrocketing
....and, reduce the cost of new software implementation.
Download the full report here.
---
Slingshot Software's Punch-Out Strategy
In an increasingly competitive marketplace, many organizations are re-examining their spend management practices to positively influence their bottom line. Key to this approach is identifying opportunities to control how goods and services are procured.
The ability for a system user to "Punch-Out" presents a number of advantages:
Elimination of "maverick" buys
Improved spend control
Sourcing time reduction
Greater system intuity, functionality and ease of use
Punch-Out functionality improves efficiency, increases system usability and adoption, drives purchases to existing contracts and ultimately saves money.
Click here to read more.